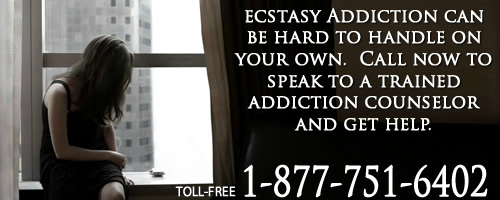 Ecstasy Overdose:
MDMA or Ecstasy is a schedule I synthetic, psychoactive drug possessing stimulant and hallucinogenic properties. Ecstasy possesses chemical variations of the stimulant amphetamine or methamphetamine and a hallucinogen, usually mescaline. Illicit use of Ecstasy did not become prevalent until the late 1980s and early 1990s. Ecstasy is commonly used in combination with other drugs, which increases the user's risk of an Ecstasy overdose. Interestingly, Ecstasy is rarely consumed with alcohol, as alcohol is believed to diminish its effects. Ecstasy is traditionally distributed at late-night parties called "raves", nightclubs, and rock concerts. As the rave and club scene becomes more popular in metropolitan and suburban areas across the country, Ecstasy use and distribution are increasing as well.
An Ecstasy overdose occurs when more Ecstasy is consumed than your body can safely handle. Ecstasy users are constantly flirting with drug overdose, and the difference between the high they're seeking and serious injury or death is often marginal.
As of November 1995, 50 to 60 people had died due to either an ecstasy overdose or dehydration because of Ecstasy. Ecstasy overdoses persist currently, including 8 people in Miami and 5 in Minneapolis/St. Paul. In Boston during the first three quarters of 2000, Ecstasy was the most frequently mentioned drug in telephone calls to the Poison Control Center.
Warning Signs of Ecstasy Overdose
Feeling hot or unwell

Becoming confused, not able to talk properly

Headache

Vomiting

Not Sweating

Racing heart or pulse when resting

Fainting or collapsing

Loss of control over body movements

Tremors

Problems Urinating
An Ecstasy Overdose is Characterized By:
rapid heartbeat

high blood pressure

faintness

muscle cramping

panic attacks

loss of consciousness

seizures

hypothermia

muscle breakdown

stroke

kidney and cardiovascular system failure

permanent damage to sections of brain critical to thought and memory

death
Below is an excerpt from:
Ecstasy Overdose Killed N.J. Student
Wednesday, December 12, 2001
By Ashanti M. Alvarez & Tara Kane Staff Writers for the N.J. News
"An Ecstasy overdose led to the death of a Pequannock High School senior who was found unconscious at a Manhattan nightclub in August, New York City's medical examiner said Tuesday.
Michael Del Giudice, 18, died of "acute intoxication from methylenedioxy-methylamphetamine," or MDMA, the drug commonly known as Ecstasy....
But taking Ecstasy causes dehydration, which, coupled with intense body heat from dancing in a packed environment and a lack of water, can easily lead to sickness and, in rare cases, death.
New York's medical examiner, however, determined that Del Giudice died from an Ecstasy overdose. The office would not specify how much of the drug was found in his system....
A spokeswoman for the National Institutes of Health said there is no specific amount of the drug that will cause an overdose. Rather, a person's body weight and age are factors, as well as simultaneous use of other drugs, including alcohol...."